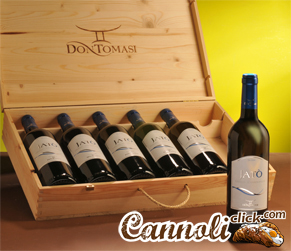 Today, it is an exciting day here at Don Tomasi: The Jatò Grillo-Chardonnay 2011 is ready.
Immediately, your nose will perceive its wonderful fragrance: standing- out exotic fruits scent mixed with a strong dose of vanilla, which is a typical characteristic of both Grillo and Chardonnay. An absolutely exciting and sensorial wine.
On your palate, its tastiness and minerality are the masters!
Pleasant and easy to drink, the Jatò Grillo-Chardonnay 2011, even more today, establish itself as an elegant wine appropriate for the best palates.
It is available online in a very stylish 6- bottle wooden box.
What do you think? Give us your advice or tell us about your experience.