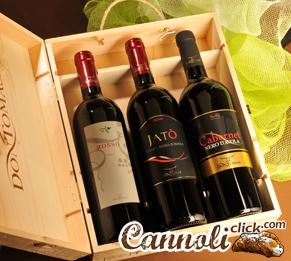 Three Wonderful Red Wines are available on CannoliClick.com, inside a splendid solid wooden box.
To begin, we suggest our "Don Tomasi Rosso IGP Sicilia 2010", a blend of Syrah and Nero d'Avola with a slight passage inside the barrel. It is perfect to pair it with white meat and non-mature cheeses.
Then we suggest a "Don Tomasi Jatò Rosso IGT SIcilia 2009", a blend 60% Syrah and 40% Nero d'Avola with a maturing of 8 months inside the barrel and 6 months inside steel tanks. A standing out taste of red fruits, balsamic herbs and with a slight hint of wood. Tannins are fine to palate and well incorporated.
Lastly, at the top of the range, our "Cabernet Sauvignon" – Nero d'Avola Don Tomasi IGT Sicilia 2005", refined 12 months inside the barrel, 6 months inside steel tanks, and then it matures inside the bottle for years. Sensations of oregano, rosemary and a slight non-preponderant vanilla taste. It is a full-bodied wine with perfectly polymerized tannins.
The packaging containing our Three Wonderful Red Wines will be sent to your address immediately the day after the online order.
It is advisable to serve them after decanting, at a temperature of 18°.
What do you think? Give us your advice or tell us about your experience.